It is becoming more and more apparent that pharmaceutical companies will require strict temperature controls to safeguard the new vaccines being developed for Covid-19 during transport and distribution – down to temperatures as low as -70° Celsius.
According to the World Health Organization, nearly 20 percent of temperature-sensitive health care products are damaged during transport, and 25 percent of vaccines reach their destination in a degraded state due to breaks in the cold chain.
Ballinlough can offer flexible vaccine storage solutions to ensure these precious cargo are kept at the correct temperature through the entire cold chain – from storage to trailer to last-mile delivery.
Storage Solutions
Ultra Low Temperature, flexible and adaptable refrigerated solutions
Upgraded ISO Containers provide temporary refrigerated storage between -70°C to +30°C
Protection of temperature sensitive perishables and pharmaceuticals
Flexibility to scale up or down with demand
Various customizations and upgrades to optimize end user experience
Complies with various regulations to give peace of mind
Flexible and innovative solutions for goods in transit and storage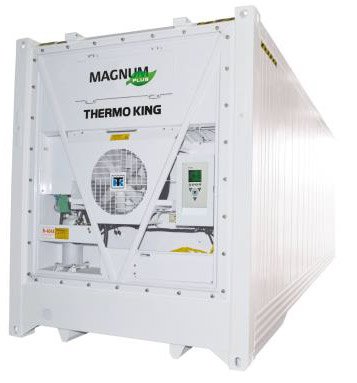 MAGNUM PLUS
From +30°C to -40°C temperature control
Fast pull down
Precise temperature control
Low energy consumption
Intelligent Telematics with real time 24/7 visibility
360-500 Volt / 50Hz & 60Hz plug in or diesel generator option
GDP Certified
SUPERFREEZER
Ultra low temperature (-70°C)
From -10°C to -70°C temperature control
Designed to transport and maintain high value cargo safely
Precise Temperature Control
Intelligent Telematics with real time 24/7 visibility
360-500 Volt / 50Hz & 60Hz plug in or diesel generator option
GDP Certified
Ballinlough can offer temporary vaccine storage solutions that maintain a set point down to -70° Celsius, and can ensure end-to-end temperature control, security and traceability through state-of-the-art telematics. Additional storage solutions include refrigerated trailers, containers and portable cubes that can easily be scaled and repositioned to other locations as demand changes.
The reefer units are manufactured in accordance with global guidelines as ISO 9001:14000 and the unit performance complies with ISO 1496-2/ATO/ATP/USDA/CE regulations to give peace of mind to end users worldwide. Good Distribution Practice (GDP) guidelines for Pharma are also met through additional testing and certification.
With the rise of temporary cold storage needs for pharmaceuticals and extra capacity in hospital environments, Thermo King's Cold Storage Solutions offer safe, effective, flexible and mobile storage as well as temporary testing capabilities in low or ultra low temperatures.
Standard offering includes:
Lights
Flat floor
Access ramp for fork lift
Door release (safety precaution)
Curtains (safety precaution)
Access ramp for trolley
Door switch (safety precaution)
Easy door access
Unique Features for Ultra Low Temperature
Extra Insulation: Lowest Heat Leakage
Ultra low temperature curtains
Reinforced structure for in-out extreme temperature variation
In addition, we have a range of Trailer, Truck, Vehicle Powered and Coldcube solutions to manage the entire coldchain along with Thermo King TracKing telematics.