Everything you need to know about Cantilever Lifts from Dhollandia.
1. DH-LC.08 – 500kg / 700kg
The 2-cylinder DH-LC is at the entry level of DHOLLANDIA's range of cantilever lifts. Thanks to its intrinsic simplicity, its low maintenance cost and its attractive pricing, this compact lift is ideal to equip rental vehicles and light-duty commercial vehicles.
2. DH-LE.08 – 500 / 750kg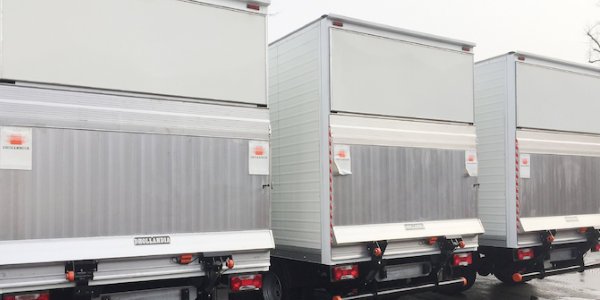 The new DH-LE is a light-weight 2-cylinder lift, at the entry level of DHOLLANDIA's range of cantilever lifts. Thanks to its compact lift frame and short lift arms, it ideally suits light commercial vehicles with very short overhang.
The ingenious lift frame construction without cross tube allows to save weight, and (in most cases) to leave the spare wheel in its original position.
3. DH-LM.10 – 1000kg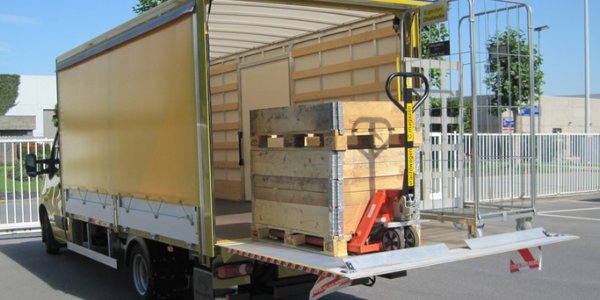 The 4-cylinder DH-LM.10 has been DHOLLANDIA's best seller in the light-duty truck range for many years, thanks to its superior stability and performance in comparison to competing 2-cylinder and 3-cylinder lifts, and its excellent price-quality ratio.
This lift is now partially superseded by the DH-LMA.08. But it continues to play an important role: for 1000 kg lift capacity; for platforms above 1800 mm; for vehicles up to 7.5T GVW with a floor height above 1050 mm, and for several special executions, such as the half-width lift DH-LMZ.10.
4. DH-LM.15 – 1000kg / 1500kg
The DH-LM.15 was launched in 2012 as missing link between 1000 and 2000 kg capacity lifts. Since then, it has become extremely popular as ideal weight saving lift for medium capacity trucks of 7,5 T to 12 T GVW.
It is considerably lighter and requires less overhang than the DH-LM.20; yet it is stronger and more robust than the DH-LM.10.
5. DH-LM.20 – 1500kg / 2000kg
The DH-LM.20 is an extremely versatile medium capacity lift, suitable for commercial trucks above 7.5T GVW, trailers and semi-trailers.This powerful 4-cylinder lift is available with reinforced steel platforms or light-weight aluminium platforms up to 2250 mm. Longer platforms are available in combination with lift type DH-LM.30. Special applications are available for truck-trailer combinations with draw-bar), adaptations for trailer-coupling mounted between the chassis beams, for very short overhang, and for tipper vehicles.
6. DH-LM.30 – 2000kg / 3000kg
The cantilever lift DH-LM.30 is a powerful lift for intensive, heavy duty tasks and "hostile environment" circumstances. It is ideal for the most demanding applications in the regular transport business, such as supermarket & food distribution.
The DH-LM.30 can be equipped with very long platforms (3000 mm long and even longer foldable platforms), hence it can easily form the rear closure of the vehicle body.