As the only transport refrigeration company in Ireland that carries out its own insulation conversions on panel vans, Ballinlough prides ourselves on the quality and attention to detail in every job we do. Insulation for panel vans has been a mainstay in Ballinlough since day one. From starting with traditional fibreglass insulation with a gel coat finish, we have innovated over the years and progressed to our GRP Pressed Panel Kit insulation, called Efficient°C. Our conversions have the flexibility to accommodate varying and diverse user-specific needs – including (for example) racking, electric standby, and multi-temperature capability.
Efficient°C is made from a lightweight, strong, and durable GRP sheet with woven roving reinforcement as a regular surface. This way it can avoid the use of weighty timber elements in the wall construction, whilst not compromising on strength and durability. It has a clean, easy-wipe finish that is food safe yet hard-wearing for tough jobs.
Ballinlough are the only transport refrigeration company that carries out our own in-house insulation conversions of panel vans. There is no need for a 3rd party. Our conversions have the flexibility to accommodate varying and diverse user-specific needs, to meet all business demands.
We strive to constantly be an Innovator in the transport refrigeration industry. Efficient°C insulation has the highest insulating values of any commercially available insulation. It has also been chosen due to its high strength to weight ratio. Efficient°C is 33% lighter than fibreglass while delivering better insulating properties. It gives you better-quality insulation that is lighter weight than a traditional fibreglass solution. It means a higher payload and lower costs. The result is an insulation and refrigeration solution that is lightweight, environmentally friendly, and cost-effective.
We offer bespoke insulation conversions to suit your every need, no matter how big or small.
Step One: Choose your van
Tell us the make and model of your van.

Step Two: Choose your Thermo King unit.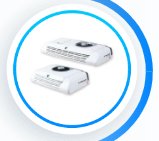 What temperature do you require? Fresh / frozen or maybe both? Maybe heat?
Do you require an Overnight plug in to pre-chill the van? Or Road Only?
Step Three: Choose your Insulation options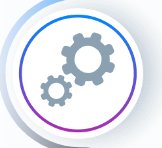 The options are endless. Looking for a bespoke design? Tell us your business needs and we will design the best outcome.
Extra options can include:
Shelving (Fixed or Folding)
Extra Protection (To bulkhead/wheel arches / floor)
Non-slip Floor
Roof Cut Out
Lips and/or Drain holes (Fish Spec)
LED Lights
Polar Curtains – Recommend for deep frozen temp
Door Pods
Removable or Fixed Partitions
Data & Temperature Logging
Any other requirements
Step Four: Sit back and Relax
All the hard work is done, leave the rest to Ballinlough.
We will collect and deliver your bespoke Thermo King Refrigerated van, at no extra cost.
Make sure to sign up for your 2 Year Warranty
Home Delivery Van
Over the last 2 decades we have seen year-on-year growth of light commercial vehicles on the road delivering everything from weekly grocery shopping to white goods and especially over the last few years, the ubiquitous online retailer package.
Temperature Control plays a huge part in grocery home delivery, not just for food safety which is a critical element but also for food quality. Customers today want the convenience of having their shopping dropped at their front door but are also mindful that the product has enough shelf life, is of good quality and is at the correct temperature.
Frozen Food should be at -18°C, Chill at 2°C and ambient product should ideally be at room temperature. Keeping ambient separate from temperature-controlled products enables the refrigeration unit to cool products efficiently and reduces the possibility of moisture on ambient packaging when removed from the vehicle and brought into a warm environment.
Up to now the best way to operate home delivery has been in a custom-built body with 3 compartments on a chassis cab. These vans can hold up to 120 crates with each product being in its own temperature-controlled environment. The downside to these vehicles is their size. Smaller owner operators do not need that volume in the vehicle and quite often do not have the space to park the van at the retail outlet.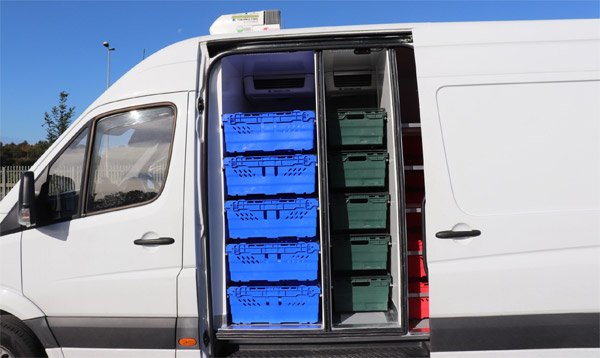 We understand the unique challenges faced by supermarkets and food suppliers when it comes to delivering perishable goods. Tight delivery locations, varying temperature requirements, and the need for efficient logistics demand a reliable solution. That's why we are proud to introduce our Home Delivery Van Spec with EfficientC°, a groundbreaking panel van insulation designed to revolutionise the delivery process.
Our Insulation Workshop developed a van conversion project which will give our customers the critical 3 Temperature Zones in a smaller panel van which will enable supermarkets & food suppliers to get their deliveries in and out of tight delivery locations with less fuss.
The conversion can also be installed in electric vehicles and cooled using Thermo King's E-200 All Electric Refrigeration Unit & ES-100N Home Delivery Slimline Evaporator Configuration.
Access to the frozen & Chilled compartments is through the van's side door and ambient through the rear. A door switch is installed to turn the evaporators off when the side door is open which helps preserve temperature and Thermo King's Blue Box Telematics is also available to give visibility of the vehicle's location, temperature history & door openings.
Why choose EFFICENT°C Insulation?
All insulated panels in the panel van conversion are manufactured at our state-of-the-art facility in Ballinlough, Roscommon. Our conversions are lightweight, tough & give the highest payload with minimum impact on the vehicle's GVW for WLTP (World Harmonised Light Vehicle Test Procedure).