Self-Powered truck temperature control solutions – always delivering what matters.
Thermo King's new T-Series is the result of years of research and exhaustive testing. The T-Series sets new industry standards for reliability, performance, efficiency, and low cost of ownership. The T-Series delivers greater capacities at lower operating speeds and allows for precise temperature control. Low operation and maintenance costs, as well as fuel-saving technologies, keep the cost of ownership to a minimum.
When Thermo King established performance criteria for the T-Series, high ambient capability was a "must-have". Extensive field trials and thousands of running hours have proven the design able to perform in even the harshest of conditions, right up to 55°C. A heating option has been especially developed to ensure top performance at low ambients too.
Operation is easy and error-free, thanks to new, intuitive in-cab controllers. Ease of monitoring means the units will deliver optimum performance with maximum efficiency. The T-Series minimizes an operator's carbon footprint with reduced exhaust emissions and less waste. The whisper-quiet operation will allow access to noise-sensitive urban delivery areas.
With the widest range in the truck refrigeration industry, there is a model to suit all trucks from the smallest to the largest, running one, two or three temperature zones.
And you have the reassurance of the most extensive service network in the industry.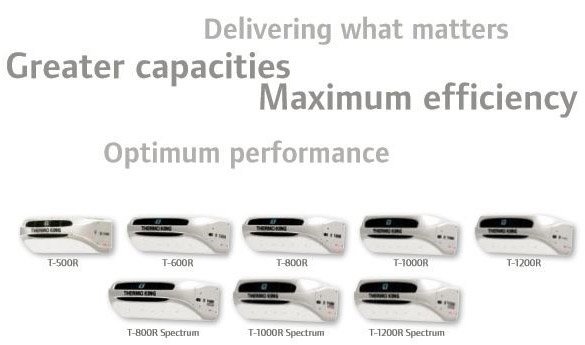 Lowest fuel consumption
Through extensive development and field experience, Thermo King has found the right balance between system efficiency, fuel consumption, and performance in all ambient conditions for both fresh and frozen produce.
Advanced technology such as the Truck Smart Reefer (TSR-3) controller and micro-channel condenser coils means greater fuel efficiency.
On the T-1200R and T-1200R Spectrum, an Electronic Throttling Valve (ETV) reduces engine emissions and increases fuel economy.
Faster pull-down means lower fuel consumption during pre-trip runs and in between door openings
Cycle-Sentry This stops the engine when refrigeration is not needed and restarts it when refrigeration or battery charge is needed.
Fuel and CO2 savings of up to 80%
Increased component life
Reduced maintenance costs
Reduced environmental impact
All the T-Series range features GreenTech™ engines which are the cleanest on the market, exceeding all existing EU requirements for emissions control
Micro channel condenser and radiator coil means up to 33% less refrigerant charge compared to old models and reduced environmental impact
Extended Maintenance Intervals reduce oil, filter and coolant waste
High gloss impact-resistant external panels mean 99.7% of the unit (by weight) is recyclable
The T-Series range is manufactured at Thermo King's state-of-the-art facility in Galway, Ireland, which has held ISO 14001 certification for Environmental Management since 2000, and ISO 50001 certification for Energy Management Systems since 2012.
Up to 60% quieter operation
T-Series Whisper™ technology dramatically reduces the operating noise to permit access to noise-sensitive areas
Components including poly-V stretch belts with Quiet Channel technology and quiet fans reduce noise generation
Super-absorbent foam reduces noise transmission
The toughest range in the industry
An extensive range of single and multi-temperature units means there is a model to suit all trucks, from the smallest to the largest
There is a spread of cooling capacities to meet the most demanding applications

5250 to 12500 Watts at 0°C
2800 to 6800 Watts at -20°C

All models have been proven to perform right up to 55°C, the highest benchmark in the industry
ThermoKare offers a complete selection of service contract solutions to manage maintenance costs and hence the total life cost of a unit.
Extended maintenance interval Thermo King EMI 2000 (EMI 1000 for T-500R) will extend your maintenance interval and reduce your operating costs by

Reducing clean-up and disposal costs
Reducing environmental impact with less spillage and less oil, filter and coolant waste
Extending engine life with improved, highly efficient filtration
Made in Ireland